Hellos all Cait's readers! I'm so excited to be here today to fill in while Cait is off exploring the world!. I'm Amie, and I have my own little corner of the internet called
Kitty Cats and Airplanes
.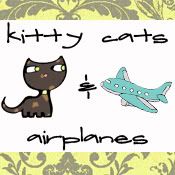 When I graduated college I suddenly found free time on my hands, so I rekindled my life long love for arts and crafts. Too bad since then I've gotten a job! Luckily the hubs is ok with my addiction. :)
Whilst visiting KC&A, you can expect to a lot of craziness, I've got serious crafting ADD! I'm always trying something new.
I post tutorials every Tuesday, recipes every Friday, and a ton of other fun crafty things. I hope to see you over at
Kitty Cats and Airplanes
soon! Thanks Cait!